Novinky
Flash News #13/2018
Na nedávném Grand Prix Kodaň jsme měli početnou skupinu našich hráčů, ze které hned 3 skončili v penězích a Lukáš Blohon dokonce v TOP8. Proto se na tohle GP pořádně podíváme a přidáme si k tomu i SCG Con, online turnaje a pražský Commander.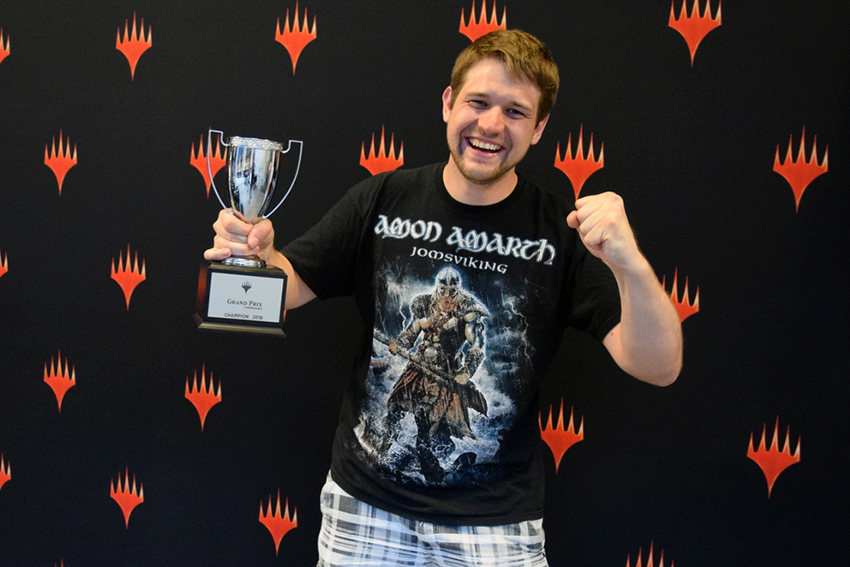 1. GP Kodaň (Standard)
V Kodani se konalo nejmenší evropské GP patrně od GP Moskva 2014 (532 hráčů), když se tam sjelo pouze 753 hráčů, z nichž ovšem hned čtrnáct reprezentovalo Českou republiku.
Od PT se na standardu nic nezměnilo - dva nejúspěšnější decky zůstaly RB a Monored Aggro. Na paty jim šlapaly pouze kontroly s Teferim (UW a Esper).
Ve finále jsme viděli reprízu PT, když Tobias Maurer s Monoredem porazil RB Aggro Francisco Sancheze.
V top8 jsme měli tři Monoredy (jeden z toho byl s nižší křivkou a The flame of Keld), tři RB Aggra a dva UW Controly.
Na turnaji se velmi dařilo Lukáši Blohonovi, který s RB Aggrem uhrál v první dni 8:0 a ve druhém dni ve výborných výsledcích pokračoval. Nakonec ho zastavil až ve čtvrtfinále Francisco Sanchez. Možná se to nezdá, ale byla to už lukášova devátá top8 v rámci GP.
Dobře si vedli ještě Petr Sochůrek a Martin Hrycej. Petr skončil se skóre 11:3:1 na dvacátém místě a Martin se skóre 11:4 na čtyřiadvacátém.
V coverage bylo zveřejněno prvních šestnáct decklistů, jejichž shrnutí vypadá následovně:
5× RB Aggro
3× Monored Aggro
2× UW Approach
1× Keld Red
1× UW Control
1× WB Aggro
1× Esper Control
1× UB Midrange
1× RB Midrange
Prostor v coverage dostalo i několik zajímavých brew. Konkrétně BR Midrange s playsetem The Eldest Reborn (11:4 - 27. místo), dost divoká RUG Rampa s Haphazard Bombardmentem (10:5 - 91. místo)) a New Perspectives Combo (11:3:1 - 19. místo).
2. SCG Con Roanoke (Invitational, No Banlist Modern Open & další turnaje)
V Roanoke se konal mamutí con zaštítěný StarcityGames. Vrcholy této akce byly SCG Invitational a specialita v podobě Open ve formátu No Banlist Modern. Kromě toho se hrála velká řada nejrůznějších sideeventů, kde nechyběly formáty jako vintage či pauper.
Nejprestižnější záležitostí bylo Invitational, kterého se účastnilo 357 hráčů. Hrála se kombinace standardu a modernu, když se hrálo dvakrát po čtyřech kolech od každého a poté finálová top8, kde byl na programu modern.
Nejvíce se dařilo Aaronu Barichovi s kombinací Monored Aggro a Infect, který ve finále porazil Zaca Elsika, jenž nezklamal, když si vsadil na kombinaci UW Gift a Ironworks Combo.
Jednotlivé formáty vypadaly následovně:
na standardu byly nejhranější decky Monored Aggro (31 hráčů), RB Aggro (24 hráčů), Esper Control (20 hráčů) a UB Midrange (10 hráčů)
mezi decky se skóre 7:1 a lépe byly tři Esper Controly, UW Control, Esper Midrange, RB Midrange, RB Aggro, UB Midrange a zajímavý BW Midrange
v top8 bylo dvakrát Monored Aggro, dva Esper Controly, dvě RB Aggra, UW Gift a zajímavý UW Flash s Merfolk Tricksterem a Walking Ballistou
modern byl svědkem dominance Jeskai Controlu, který ve druhém dni hrálo 22 hráčů
další populární decky byly Humani (11 hráčů), Affinita (také 11 hráčů), Mardu Pyromancer (9 hráčů), UW Control (8 hráčů) a BR Hollow One (7 hráčů)
mezi decky se skóre 7:1 a lépe bylo k vidění BR Hollow One se splashí pro Lingering Souls, vítězný Infect, Jund s Grim Flayery a po dvou hráčích měl Green Tron, Madru Pyromancer a Jeskai Control
v top8 se to trochu promíchalo, vedle již zmiňovaného Infectu a KCI komba jsme tam měli Hollow One, Affinitu (s Karnem), Mardu Pyromancera, Bogles, Jeskai Control (speciál Gerarda Fabiana s několika nestandardními one-ofy) a konečně chuťovku v podobě Green Devotion
Z pohledu nadšeného deckbuildera mi jako nejzajímavější událost víkendu přišel No Banlist Modern, kterého se zúčastnilo 207 hráčů.
Mé původní představy byly o různých kombech jako Storm, Eggs, nebo Infect s Blazing Shoalem, nicméně realita byla jiná. Formát se hodně podobal legačce, ovšem s tím rozdílem, že šlo o finančně mnohem přívětivější záležitost, což zní docela zajímavě (co si budeme povídat, pokud nemáte duály a další staré drahé karty, tak si dneska legačku zahrajete dost těžko).
Ve druhém dni byly nejhranější následující decky:
13× Colorless Eldrazi
11× U/R Delver
11× B/G Depths
8× U/R Twin
7× Infect
4× Eldrazi Post
4× White Eldrazi
4× Grixis Death's Shadow
4× Miracles
4× Elves
3× Storm
Svou převahu dokázali Eldrazi zúročit, když obsadili pět míst v top8 a také se radovali z celkové výhry, kterou jim zařídil Aiden Brier s Colorless verzí decku, když ve finále porazil UW Miracly, které pilotoval BBD.
Zveřejněno bylo prvních 25 decků, jejichž sumář je následovný:
7× Colorless Eldrazi
6× BG Depths
2× White Eldrazi
2× Eldrazi Post
2× UW Eldrazi
2× Jund Midrange
1× UW Miracles
1× UR Storm
1× UR Delver
1× Grixis Death's Shadow
S nadsázkou tak lze říci, že dvě nejvíce broken karty, které jsou na modernu zabanované, jsou Eye of Ugin a Dark Depths.
Zbylé zajímavé turnaje si projdeme v uvozovkách chronologicky, takže začneme dvojkovou klasikou, které se zúčastnilo 94 hráčů.
Z vítězství se tu radoval Raja Sulaiman s upravenou verzí WB Midrange, se kterým se mu už předtím dařilo na Invitational. Ve finále porazil RB Aggro pilotované Mitchellem Sachsem.
Zajímavý deck skončil na třetím místě, byl to GB Midrange s větším množstvím manovačů s velkým množstvím různých planeswalkerů (Karn, Nissa, Vraska) a The Eldest Reborn. Pokud poctivě sledujete výsledky SCG, tak vás asi příliš nepřekvapí, když vám prozradím, že autorem decku byl Brennan DeCandio.
Dobrá zpráva je, že v top16 byla velká rozmanitost a žádný deck neměl nějakou větší převahu. Nejúspěšnější byla trojice RB Aggro, Esper Control a UB Midrange, která měla tři zástupce v top16. V té jsme dále mohli vidět dva Monoredy, UW Gift, GW Midrange s malou černou splashí na Vrasku a discard v sidu a také RB Midrange.
Největší z klasik byla jako obvykle ta modernová, když se jí zúčastnilo 217 hráčů.
Z výhry se tu radovala Joslyn Lambaria, když s klasickou verzí Jundu ve finále porazila Gifts Storm.
Na dalších místech byli k vidění Eldrazi nad Taxes, Abzan Company (s novinkou v podobě Shalai), Grishoalbrand, Humani, Bogles a UR Breach Moon. To mimo jiné znamená, že v top8 bylo osm zcela rozdílných decků.
Vůbec první "duplicitní deck" byl až na jedenáctém místě - šlo o Boros Burn, který obsadil v top16 hned tři místa. Dalším deckem s více zástupci v top16 už byli jenom Humani. Zbylá místa pak patřila výhradně tier deckům - Jeskai Control, Hollow One, Grren Tron a Grixis Death's Shadow.
Jako jediný formát měla hned dvojici samostaných eventů legačka. Hlavní událostí byl třináctikolový souboj o duály, který si nenechalo ujít 187 hráčů.
Triumfoval v něm legacy specialista Kevin King, který upustil od svých oblíbených Zemí a tentokráte vsadil na Grixis Delvera. Ve finále porazil Storm pilotovaný Parisem Grantem.
Z turnaje bylo zveřejněno prvních 32 decklistů, jejich sumář je následovný:
5× Grixis Delver
4× Czech Pile
4× GB Depths
2× Storm
2× Mentor Miracles
2× Death and Taxes
Dark Maverick
Elves
UW Stoneblade
Grixis Pyromancer
Monored Stompy
Esper Deathblade
Deathrite Ale
Dredge
Lands
Colorless Eldrazi
Cheerios
BUG Delver
OmniTell
Nejzajímavjší brew byli bezpochyby Cheerios s Monastery Mentorem a Auriok Salvagers kombem, ke kterému tu byl navíc i playset Walking Ballistů. Decku dodal zcela nový rozměr Karn, u kterého tu opravdu efektivně využijete všechny ability.
Další méně obvyklé decky byly UW Stoneblade (s maindeck Teferim), Grixis Control s Young Pyromancerem, či BW Stoneblade (Deathrite Ale).
Klasiky se zúčastnilo 91 hráčů a opět tu zvítězil Grixis Delver, tentokráte díky Draku Sasserovi.
V top16 jsme tu měli dvojici zajímavých rogue decků. První byl BUG Food Chain se zajímavými techovkami jako Traverse the Ulvenwald, Hostage Taker, nebo dokonce Spellseeker. Druhé brew byl UW Landstill s Myth Realized, který se ale jinak hodně podobal klasickým Miraclům.
Celkem byl v top16 čtyřkrát Grixis Delver, třikrát Czech Pile, třikrát Monored Stompy (že by s Karnem deck tolik posílil?), Food Chain, BUG Control, UW Landstill, Aggro Loam, Storm a Colorless Eldrazi.
Poprvé za celou dobu, co dělám Flash News, uspořádaly SCG velký vintage turnaj. Hrálo se stejným systémem, jako u legacy, čili třináct kol + top8.
Nejúspěšnější deck turnaje byly Ravager Shops, které obsadily čtyři místa v top8 a nakonec hrály i mirror ve finále, kde zvítězil známý vintage nadšenec, Andy Markiton. Zajímavé je, že jeho finálový soupeř, Eric Marich se nebál experimentovat a do decku přidal Traxose.
V top32 to vypadalo takto:
7× Ravager Shops
5× Traxos Shops (Ravager Shops s Traxosy)
5× UWR Mentor
3× Paradoxical Mentor
2× Grixis Thieves
Paradoxical Storm
Inferno Oath
UWR Delver
White Eldrazi
Mardu Walkers
Blue Dredge
UWR Stanstill
Bomberman
Monored Stompy
Paradoxical Oath
Nejšílenější brew byl zcela určitě "Mardu" Control s velkým množství nejrůznějších planeswalkerů, ačkoli označení Mardu deck příliš nevystihuje, jelikož v něm byl Thought-Knot Seer, Deathrite Shaman a jako jediná bílá karta v mainu Containmnet Priest. Zajímavé je také zahrnutí Damping Sphere do mainu. Hate karta zároveň proti Stormu a Shopům...
Další zajímavosti byly například Paradoxical Storm s Karny a Erayem, UWR Standstill s chuťovkami jako Consecrated Sphinx a Teferi, Bomberman (Auriok Salvagers kombo) taktéž vylepšený o Karny, vintage verze Monored Stompy, či UR Delver s bílou splashí pro maindeck Containment Priesty.
Poslední zajímavou akcí tohoto "conu" byl pauper turnaj, kterého se zúčastnilo 123 hráčů.
Hlavní baštou pauperu je samozřejmě MTGO, takže není divu, že výsledky tu víceméně kopírují metagame z online challenge turnajů.
V top16 byl třikrát UR Delver, dvakrát Elfball, Boros Aggro, Monoblack Control a UB Control, a po jednom Tireles Tribe//Inside Out Kombo, Atog Affinita, Monoblue Delver, Monogreen Aggro a zajímavý Abzan Rock postavený kolem Tortured Existence.
Z vítězství se radovala Kendra Smith s Elfballem (ta často a s úspěchem hraje pauper na online pod nickem The Maverick Girl), když v top4 a ve finále porazila dva UR Delvery. Maindeck Spidersilk Armor dobře vypovídá o tom, co na formátu hraje prim...
3. Standard MOCS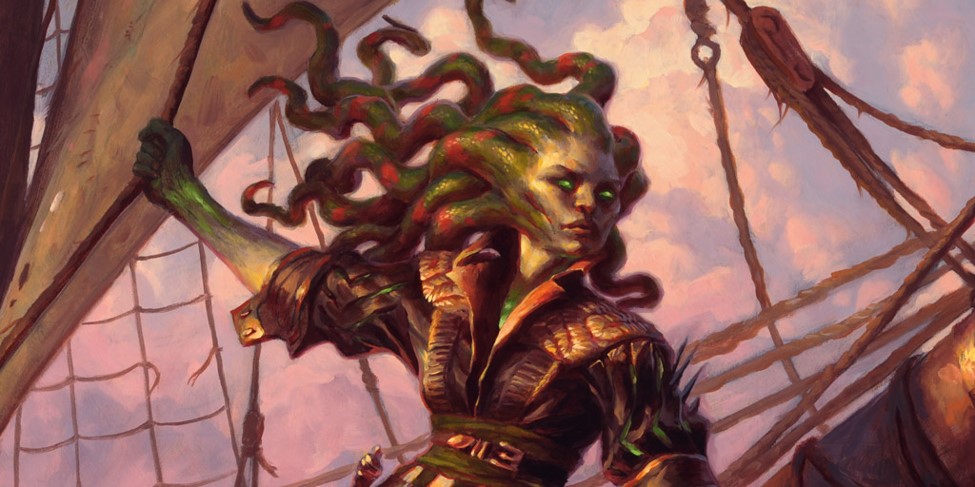 Na onlinu se hrál opět velký standard - tentokráte MOCS, kterých se zúčastnilo 193 hráčů, z nichž se sedmadvaceti podařilo v osmi kolech dosáhnout na šest výher potřebných pro kvalifikaci do čtvrtletního finále.
Zajímavé je, že podobně jako o týden dříve, byl vítězný deck GB Constrictor, tentokráte pilotovaný Jeffem Cunninghamem, který jako jediný uhrál perfektních 8:0.
Na dalších místech jsme mohli vidět GW Midrange, Monoblack Midrange, UB Midrange, dvakrát Monored Aggro, RB Midrange a UW Control. Rozhodně se tak nedá říct, že by byl standard v nějaké špatné pozici a nedalo se hrát nic jiného, než decky s Chainwhirlerem.
Mezi hráči se šesti a více výhrami to vypadalo takto:
5× GB Constrictor
4× Monored Aggro
3× UW Control
3× RB Aggro
2× Gu Aggro
GW Midrange
Monoblack Midrange
UB Midrange
RB Midrange
UB Improvise
WB Aggro
RUG Energy
UB Control
WB Midrange
GB Midrange
Nejenom, že to jsou velmi rozmanité výsledky, ale dokonce tu máme i decky jako UB Improvise, či RUG Energy, což jsou záležitosti, které se takto vysoko umístěné vidí opravdu málokdy (už si ani nepamatuju, kdy naposledy jsem viděl něco uhrát deck s Whirler Virtuosem)...
4. MTGO Weekly Challenges (Modern, Legacy, Vintage, Duel Commander, Pauper)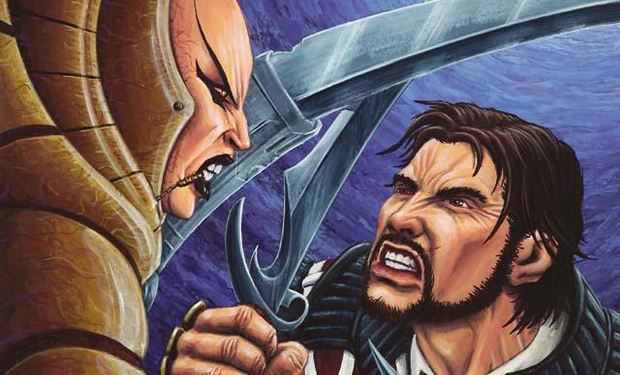 V modernové challengi jsme byli svědky vítězství "SpiderSpace" s White Eldrazi, což bylo de facto jeho vlastní brew, jelikož se tahle varianta na modernu v podstatě nehraje. Rozhodně mám radost z toho, že jsou v decku Smuggler's Coptery, což je na modernu podle mě pořád hrozně nedoceněná karta.
Na dalších místech v top8 bylo Grixis Death's Shadow, zvláštní Jeskai s Thing in the Ice a Pyromancer's Ascension, Bring to Light Scapeshift, Bogles, Humani, Green Tron a Affinita (opět s Karnem, což začíná pomalu být archetype staple).
Mimo top8 už nic příliš zajímavého k vidění nebylo...