Legacy
Rozbor Aluren na Legacy - 1. část
Tentokrát pro vás máme na legačku něco opravdu neobvyklého. Marek Fapšo pro vás napsal rozbor kombo/kontrol decku založeného na kartě Aluren. Pokud hledáte něco zábavného na Legacy, určitě tento článek stojí za přečtení.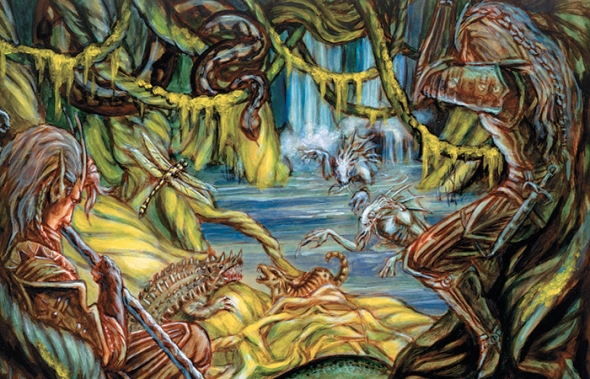 Legacy Aluren – mezi kombem a kontrolem, díl I. - Intro
U některých decků přestává tradiční dělení na archetypy (kontrol, tempo, kombo, midrange) fungovat, neboť mohou být tím i oním zároveň. Aluren je přesně takový případ. Zelený enchantment z Tempestu nabízí za 2GG možnost hrát veškeré příšery do manacostu 3 zdarma a instantně, přičemž tato možnost platí pro všechny hráče (což je někdy zcela zásadní). Zbývá tedy najít takové příšery, které umí něco zajímavého, a balíček je na světě.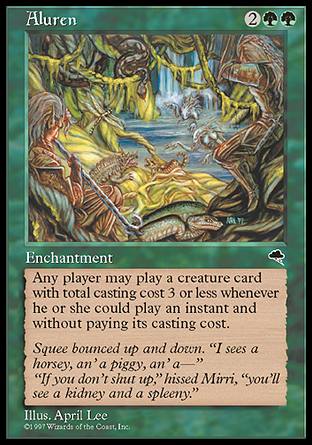 Kousek historie
První verze decku využívaly karty Cavern Harpy, Man-o'-War, Wall of Roots a Spike  Feeder k vygenerování nekonečné many, neomezeného množství životů a obřích potvor. Tato lehce kostrbatá strategie však byla spíše kuriozitou mezi ostatními balíčky. Průlom přinesl až americký hráč Martin Goldman-Kirst, který na velkých turnajích ukázal skutečný potenciál Alurenu, když do něj prosadil kombinaci Imperial Recruiter – Dream Stalker – Cavern Harpy – Parasitic Strix. Zde je jeho nejslavnější decklist z roku 2015:
Decklisty Legacy
Aluren (s červenou)
Martin Goldman-Kirst
Tento jeho posun podstatně zjednodušil a zefektivnil celý balíček, který se rázem stal "dvoukaretním" kombem. Ve chvíli, kdy je na stole Aluren a vy máte v ruce Imperial Recruitera, jste kousek od vítězství. Plánovaná sekvence je totiž následující:
Imperial Recruiter I najde Imperial Recruitera II.

Imperial Recruiter II najde Imperial Recruitera III.

Imperial Recruiter III najde Imperial Recruitera IV.

Poslední nalezený Recruiter najde Dream Stalkera, který vrátí jedno z Recruiterů zpět na ruku.

Znovu zahraný Imperial Recruiter najde dalšího Dream Stalkera, který opakuje vrácení Recruitera.

Nyní už zbývá posledním vráceným Recruiterem najít Cavern Harpy, která když přijde do hry, vrátí jednoho z Dream Stalkerů. Ten se vrátí ihned do hry a na ruku vám přihraje jednoho z Recruiterů, jenž splní svůj poslední úkol a najde Parasitic Strix.

Kombinace Cavern Harpy a Parasitic Strix znamená instantní výhru.
Důležité je, že všechno se děje instantně, například v reakci na nějakou oponentovu akci (zahraný Show and Tell, Brainstorm, Fireblast atd.). To činí z Alurenu velmi nebezpečné kombo, které se dokáže vlomit do protihráčovy hry a zvrhout situaci ve váš prospěch. Existuje totiž jen velmi málo možností, jak kombo zastavit. Pominu-li obligátní counterování, je krizovým místem chvíle, kdy je na stacku Cavern Harpy. V tu chvíli je možné buď hromadným zabíjením odstranit všechny Recruitery (Golgari Charm) nebo zastřelit oba bouncery. V takové chvíli kombo končí. Jinak časované zabíjení většinou nefunguje a lze ho obehrát.
Dlouhodobý problém Alurenu byla cena Imperial Recruitera, která se dnes pohybuje okolo 5000 Kč. Nový impuls mu však přinesla v roce 2016 edice Conspiracy: Take the Crown, v níž se objevil bílý Recruiter of the Guard.
Nový dech
Cenová dostupnost této části komba vrhla do debat o Alurenu nový impuls a hráči a hráčky začali po celém světě promýšlet nové možnosti tohoto starobylého balíčku. Verzi, kterou v současnosti hraju já, předkládám zde:
Decklisty Legacy
Aluren (s bílou)
Marek Fapšo
Recruiter of the Guard nenahradil červeného Recruitera beze zbytku. Odlišná podmínka hledání v knihovně například vyřadila karty Dream Stalker a Minster of Pain, které byly nahrazeny Arctic Merfolkem, Quicklingem a Orzhov Pontiffem.  Na druhou stranu přibyla možnost hrát zajímavé karty v sideboardu, jakými jsou Containment Priest nebo Thalia, Guardian of Thraben.
Zvýšený zájem o Aluren přinesl i nečekaný plod v podobě velmi pozoruhodné value verze BUG Alurenu, která Recruitera v jakékoli barvě postrádá. Na jeho místo přišel větší počet Harpií a karetní výhody v podobě Hymn to Tourach, Shardless Agent a Glint-Nest Crane. Zároveň může hrát playset Force of Will, což mění jeho kombo matchupy. V této podobě už nejde o dvoukaretní kombo, ale o midrange grindovací balíček, který oponenta dříve či později přehraje karetní výhodou. Nicméně stále hrozí, že v případě Alurenu na stole můžete protihráče instantně zabít tak, že se s pomocí Cavern Harpy a Baleful Strix/Glint-Nest Crane prolížete ke kombu. Tady je ukázka mé podoby BUG Alurenu:
Jak hrát Aluren?
Když jsme si nyní představili tři základní verze Alurenu, je na čase přiblížit si jeho hraní. Na začátek bych rád uvedl, že Aluren nemá jednu ustálenou podobu a z ní vyplývající způsob hraní. Vše je velmi situační, více než u jiných balíků. I proto nyní nebudu rozebírat jednotlivé karty a jejich roli v decku – o to se pokusím v příštím díle na příkladu konkrétních matchupů. Nyní spíše obecně.
Je třeba říct, že se jedná o balíček značně komplikovaný. Už samotný fakt, že Aluren má zároveň kombo prvky na jedné straně a kontrolní/grindovací možnosti na straně druhé, komplikuje zásadně herní strategii. Je třeba správně volit cestu k vítězství ve vztahu k oponentovu balíčku, situaci na stole a očekávaným kartám na jeho/její ruce. Někdy se prostě vyplatí odmíchat Aluren Brainstormem zpátky do balíčku, najít Recuiterem třeba Scavenging Ooze a vyhrát s ní. Velkou výhodou tohoto balíčku bývá fakt, že v první hře se můžete tvářit jako obyčejný BUG deck, který však najednou ve třetím kole položí Aluren a vyhraje zcela nečekaně. Podívejme se nyní na typologické matchup strategie.
Kombo. Aluren je kombo, které potřebuje obvykle 3-5 kol k rozjezdu. To z něj dělá v tomto ohledu spíše pomalý balíček, a proto je nutné hrát opatrně proti deckům jako ANT, elfové, Show and Tell nebo Reanimator. Další velkou komplikací Alurenu (zvláště toho s Recruiterem) je absence Force of Will. Vzhledem k nedostatku modrých karet a vzhledem k tomu, že karty jako Cavern Harpy a Parasitic Strix do FoW nechcete dávat, je využití této klíčové legacy brzdy dosti omezené. Základně bývá nahrazována discardem - Cabal Therapy, Thoughtseize, Duress. Obecně se dá říct, že v matchupech proti kombům se Aluren staví v prvních kolech spíše do role kontrolu a nespěchá k vítězství. Většinou se 1-2 Alureny dokonce sideují ven, neb jsou zoufale pomalé.
Tempo. Podíváme-li se na Delver decky nebo fritku, je zřejmé, že zahrání Alurenu s jeho manacostem představuje značný problém. Wasteland, Daze a Eidolon of the Great Revel brzdí vaše snažení na jedné straně a Delver of Secrets, Monastery Swiftspear s Tarmogoyfem přibližují váš neodkladný konec. Prvoplánově tak tlačit na rychlou výhru není tou správnou cestou, je třeba odstranit první hrozby na stole a pak si počíhat na správnou chvíli (přes Cabal Therapy) ke spuštění komba. Hodně pomáhá Carpet of Flowers, který dává zásadní komparativní výhodu hlavně proti Delverům. Někdy nemá ani cenu kombo spouštět, ale stačí oponentovi rozebírat ruku discardem, zabíjet jeho hrozby a váš Shardless Agent, Baleful Strix nebo jenom létající Parasitic Strix dokončí práci.
Kontrol/Midrange. Oproti předchozím dvěma typům matchupů tento v delším čase favorizuje oponenta. Čím déle hrajete, tím více counterů a jiných odpovědí protihřáč má. Zde je třeba zkusit v začátku hry, než si oponent upraví ruku třemi Brainstormy a dvěma Night's Whisper, zbavit ho/ji iniciativy a vyhrát kombem. Není to lehké a ne vždy se to podaří, ale v pozdějších fázích hry se stanou jeho/její Force of Will, Pyrbolast nebo Jace, the Mind Sculptor těžko překročitelnou překážkou. Neplatí to však vždycky, opět jde o zkušenosti a dovednost. Zdá se mi, že jednou z cest je útočit na protihráče z vícera stran – jednak položit 1-2 hrozny na stůl a nutit ho odpovědět (stačí třeba jen Baleful Strix či Deathrite Shaman) a zároveň se připravovat na kombo vítězství. Jednoduchý návod však není.
Zajímavé karty do balíčku
Velkou předností Alurenu je jeho variabilita, neboť Recruiter umožňuje hrát svého druhu toolbox příšer. Zároveň díky velké karetní výhodě (hlavně u BUG verze) se do balíčku hodí různé "one-of – two-of" kousky, jež doplní základní kostru balíčku. Nebudu zde rozebírat všechny možné hratelné karty, zaměřím se jen na ty, které vidím jako pozoruhodné v současné situaci.
Academy Rector
Stará karta, skvělý doplněk. Je to svého druhu pátý Aluren, který navíc obehraje Spell Pierce. Dobře spolupracuje s Cabal Therapy nebo tvoří skvělého blokera pro Tarmogoyfa či Eldrazi.
Ancestral Vision
Vhodný do BUG verze, kde hraje stejnou roli jako v tradičním Shardless BUGu. Posouvá tak Aluren více ke standardnímu midrange balíčku.
As Foretold
Stále ještě trošku experimentální karta pro legacy. Dává ale zajímavé možnosti společně s kartou Magus of the Will a Ancestral Vison. Díky ústupu Counterbalance ustoupil i Abrupt Decay, čímž se možná vytvořila jistá příležitost pro takové karty.
Containment Priest
Jedno z bílých vylepšení Alurenu, které podstatně zlepšuje matchupy jako Death and Taxis, Show and Tell, elfové, Reanimator nebo Dredge.
Faerie Macabre
Tutorovatelný hrobový hate, který nelze counterovat ani zahodit Collective Brutalitou. Pomáhá proti mnoha strategiím (Reanimator, Dredge, Lands).
Garruk Relentless
Nástroj pro boj s 4C Leovoldem nebo Miracles. Neumírá na Pyroblast a hned po příchodu umí udělat pěknou 2/2. Pokud není odstraněn, vyhrává hru.
Glint-Nest Crane
Klíčová součást BUG verze Alurenu, protože společně s Cavern Harpy umí najít Parasitic Strix velmi rychle. Sám o sobě může do ruky hodit Shardless Agenta, Baleful Strix nebo Umezawa's Jitte a blokuje třeba Thalii.
Leovold, Emissary of Trest
Není třeba představovat – klíčová potvora současné legacy, umí všechno. Do jisté míry vytlačil Shardless Agenta v Recruiter verzích Alurenu. Bohužel nelze ho najít ani jedním z Recruiterů.
Orzhov Pontiff
Další utility potvora, kterou najde Recruiter of the Guard a která řeší True-Name Nemesis a Mother of Runes.  Na rozdíl od původního Ministera of Pain umí pumpnout i vlastní potvory, takže zvyšuje tlak a jeho schopnost haunt není také k zahození.
Umezawa's Jitte
Karta hratelná ve všech verzích, vyhrává střední a delší hry. V BUG verzi se hezky pojí s Glint-Nest Cranem.
Příště vás čeká díl II. - matchupy a sideboarding.
Marek Fapšo
Komentáře
Přispívat mohou pouze přihlášení uživatelé. Pokud chcete vložit komentář, přihlaste se ZDE.